Kingland Introduces 4th Generation Enterprise Software Platform
New Cloud-Optimized Architecture Powered by Enterprise Data and Cognitive Computing
Clear Lake, Iowa, October 12 – Kingland Systems announced the fourth generation Kingland Platform which delivers future-proofed, cloud-optimized solutions for data-intensive enterprises. The Kingland Platform accelerates Kingland's development of industry-specific solutions by delivering 60 to 80 percent of the core capabilities, which significantly accelerates delivery times.
"We listened to executives across industries who were telling us they needed to sort through large amounts of structured and unstructured data and deliver new capabilities in months, not years," said Kingland Partner Tony Brownlee. "We took the requirements from the Legal Entity Identifier (LEI), MiFID II, and the Consolidated Audit Trail (CAT) in banking, independence and risk management in public accounting, and customer experience in other industries to drive our new Platform and enable it with cognitive technologies."
"Cognitive is a game changer and we are seeing automation at 99%+ accuracy in our solutions."
-Tony Brownlee
Clear Focus: Enterprise Solutions
The Kingland Platform uses a modern, micro-services architecture of more than 40 complementary components to create unique, client-specific and cloud-optimized solutions. The Kingland approach allows clients to automate processes, move beyond expensive and lengthy updates to legacy systems, and make quicker business decisions based off accurate, expanded data. The company boasts a cognitive computing suite that can augment the work of operational, risk, and compliance teams or replace the need for expensive legacy data sources.
"Our Kingland Platform is helping organizations reduce risk and drive business results through accurate, consistent, and maintained enterprise data across a range of application systems, supporting hundreds of thousands to millions or billions of records," said Kingland Partner Alex Olson. "We really reimagined Master Data Management (MDM) and have come up with ways to deal with the challenges of siloed sources and different types of data, but in a more modular way. The new approach will help our clients lower their total cost of ownership on these enterprise solutions."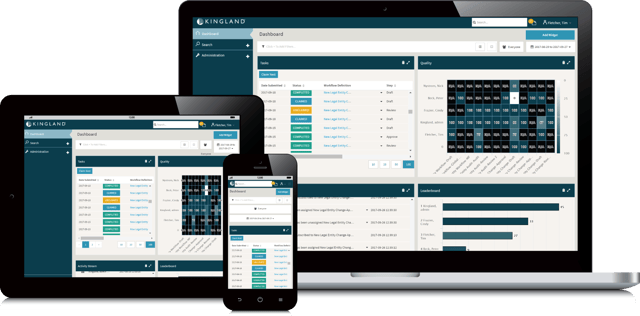 The Kingland Platform consists of the following four suites:
Kingland has invested significantly in a modern architecture to take advantage of new technologies and the cloud. "Our platform's software building blocks allow us to create solutions that scale, reduce our client's risk, and decrease time to implementation," said Kingland Chief Technology Officer Jason Toyne. "Our mantra is simple; deliver 60-80 percent of the enterprise-class capabilities day one so we can focus the remaining time and budget on unique client requirements. We recognize that enterprise clients have invested heavily in data, risk, and compliance systems over the past 10 to 15 years so we developed our Platform to be API based to integrate with legacy and future architectures."
This latest release of the Kingland Platform includes updates to all four suites, including key updates such as:
Powerful artificial intelligence, focused on data management, data collection, and business process automation
New user interface and analytics tools leveraging next generation frameworks
Modernized enterprise data management capabilities of workflows, rules, legal entity, hierarchy, customer, and other data
Cloud-optimized, DevOps-enabled software supporting high performance, high resiliency software strategies
See the new Kingland Platform today.